When I was 10, I owned a Luke Skywalker toothbrush from
Return of the Jedi
.
(Edited to add: sweet Jesus and a box of hair, I love the internet! I found
a photo of the toothbrush
).
I loved that toothbrush because I had a huge crush on Luke Skywalker. Which worked out really well since my best friend Jennifer had a crush on Han Solo.
My Luke Skywalker toothbrush came with me that summer when I went off to Girl Guide camp. In the bathroom that first night another girl made fun of me:
Are you a boy? Because this is GIRL Guide camp? If you were a real girl, you'd have a Princess Leia toothbrush. Like. Me. Not a BOY toothbrush. My Princess Leia toothbrush is PINK. Because I. Am. A Girl. What are you? A boy? Or a girl?
I'm not sure what I said in response, but I do know that for the rest of the weekend I had a knot in my stomach. I still loved Star Wars, I just knew that not a lot of other girls liked it. And those few who did, generally focused on Princess Leia and were not -- like I was -- obsessed with the way Luke Skywalker was heroic and charming and handsome and made them all tingly
down there
.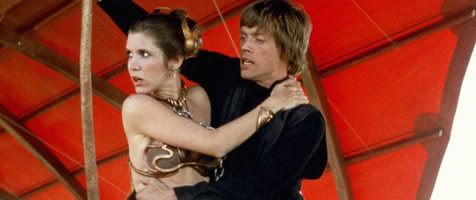 So you can probably imagine how I felt when I read
Epbot
's
blog post about Katie
, a little girl who was made to feel ashamed for loving
Star Wars
. Katie's mom (Carrie Goldman) wrote a
post
on Monday about Katie's decision to stop using her
Star Wars
water bottle because some boys in her grade 1 class mocked her.
The response to Katie has been wonderful.
I'm so proud of the online geek/girl community to which I belong. Katie's had thousands of positive responses. She was profiled on the official
Star Wars blog
, and over at
TheForce.net
. Many of the actors and animators involved with
Star Wars Clone Wars
have
reached out to Katie.
It's not too late to give Katie some words of encouragement. To post on Carrie Goldman's blog you need to join the
ChicagoNow
community, but it's a snap to leave a post on
Epbot's blog
. If you're on
twitter
, you can also use the hashtag #MayTheForceBeWithKatie.
- - - - - - - - - - - - - - - - - - - -
On a side note. I'm just re-reading Carrie Goldman's original post and can't help but compare it with that other, also-gone-viral, anti-bullying post that
I blogged
about last week. I'm struck by the difference in tone.
I love how Carrie Goldman saw this NOT as an opportunity to chastise society or strike out at the boys in Katie's class. Instead she used it as a forum to rally support for a hurt little girl and show her that she's a member of a powerful, vocal group of women.
- - - - - - - - - - - - - - - - - - - -
February 13, 2011 -- I've had a few visitors arrive at this post via search terms that I find distasteful. I've turned off the comments and hidden them in hopes that it will dissuade such visits. Thanks.