Last week we learned our neighbours are moving away.
This is sad. For me. For them? Well, it's a good thing for them. They have long planned to escape this town and with our local economy picking up (The mine is expanding! Logs are being logged! The mills are sawing and pulping! House prices are now SIX figures!) they might be able sell their house. I hope they sell to nice people. Nice people with nice children, who don't like to listen to death metal music at 3 AM and who don't expect us to mow our lawn more than three times a summer.
I'm getting use to people moving away. I still don't like it. I wish it didn't happened. But after eight years I've come to accept that this town is a waypoint not a destination for many people. Including myself and Mr Wrath.
Eight years ago I didn't think we'd still be in this town in 2011. And while I love this lifestyle, I sure don't want to be here in 2019. The logical conclusion to this line of thinking/daydreaming is the question, "Where do we want to be?"
I don't have an answer to this question. We have found no other community that makes me think, "
I could see Mr Wrath and I living here quite happily until such time as we are met by the Blessed Exchequer and welcomed to the Divine Treasury like all good Ferengi.
" It would appear that in addition to having no firmly held religious beliefs that aren't endorsed by Gene Roddenberry, we have no great master plan for our lives.
Mr Wrath and I have two amorphous scenarios about our future, ideal lifestyle.
Scenario 1: We live in an older, fully restored house, in a beautiful tree-filled, mature neighbourhood in a small town or smallish city. Everything we need is within walking distance: the library, grocery store, doctors, dentist, city parks. We seldom use the car to run errands, preferring either to walk or bike or use public transportation. There are wonderful restaurants and cafes in our neighbourhood. Every weekend, Mr Wrath can walk to the Farmers' Market and shop to his heart's content while I -- a long-time HATER of Farmers' Markets -- go to garage sales or thrift stores.
Scenario 2: Our house is on a huge parcel of land. There is no one around for kilometers and it's a 20 minute drive to the nearest town/settlement. The house is big enough that friends and family can come for extended visits. Our property is on a lake or river or the ocean and we have our own dock and can swim every day. Our dog will roam free, chasing squirrels to her heart's content. We'll have a vegetable garden. Mr Wrath will have a wood-fired clay oven that he will use to make me rustic pizzas every Friday evening.
If you are trying to visualize either of these scenarios, I'll give you two prompts: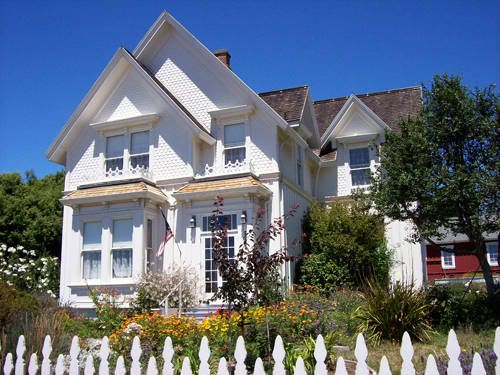 For Scenario #1, picture Jessica Fletcher's house in Cabot Cove from
Murder, She Wrote
.
The mental image I have of Scenario #2 is this: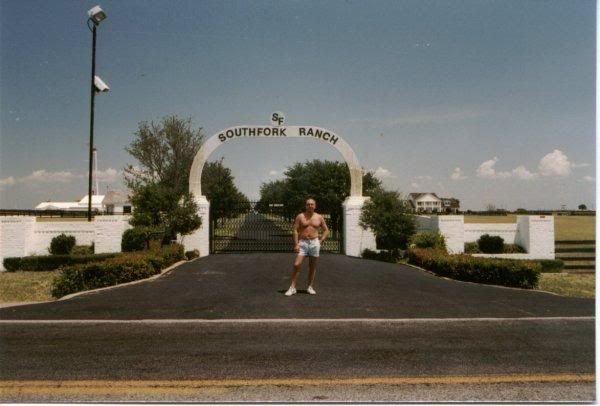 Southfork, the Ewing house on
Dallas
. In case you are wondering, that is NOT Mr Wrath posing topless in front of the Southfork gates. It's me.
[Please note: as soon as Mr Wrath and I decide on our long term goals, I'm going to set myself the short term goal of watching a few television shows produced in the last decade]
There are limitations to both of these scenarios:
-older houses are seldom found in northern BC
-we like winter, and don't want to move too far south
-homeschooling will necessitate my being out of the workforce for the foreseeable future
-living in the countryside will probably only exacerbate my natural tendencies toward misanthropy
-
we
I would also like to live close to a university or college for the boys first years of post secondary schooling
-we can barely keep up with the maintenance of our current lawn, could we really manage a larger property?
-not all rural areas have high speed internet access -- this is a deal breaker
-I don't want to own a rural property if we are still living in the land of killer blackflies
-it's only a matter of time before I contract some kind of illness from the foods Mr. Wrath will buy from those dirty hippies at Farmers' Markets.
-constant access to thrift stores might be my undoing, and could earn me an appearance on A&E's
Hoarders
What about you?
Do you have an ideal place where you want to live? Is your current home the place you will live in until you retire? Are you planning on moving to a different house or town or city? Do you want to be my new neighbour?