Sunday did not go as planned.
After Mr Wrath and the boys headed out skiing, I attempted to write a post about
this award
: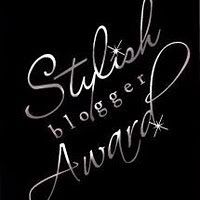 This came to me via Nicole from
A Girl In a Boy House
. The rules of this honour were that I link to the person giving me the award, share 7 things about myself and bestow it on other bloggers.
The last bit was my undoing, for two reasons:
1. Nicole and I run in the same blog circles and there aren't too many blogs I read that she didn't mention in her list, and
2. Blogs continue to drop like flies, and I can't tell if some of my favourite bloggers are on temporary hiatus of if they've abandoned the endeavour all together. It feels awkward to give this award to someone no longer invested in their blog.
Not wanting to shirk my blog-bling-recipient duties entirely, I decided to thank Nicole by posting a photo of my own black shirt collection. You see, Nicole has a little obsession with black tops. She's been
very forthcoming about this
, and is gracious when I tease her about packing 8 black shirts for a 10-day vacation in California.
So I took a photo of my five black shirts, & 1 polar fleece hoodie:
When I downloaded the photo I realized that I owned ZERO black shirts. I own 5 faded, stained, use-to-be-black shirts. Plus two of the shirts are so ugly I don't even wear them outside:
In quick order I took the scissors to two of the shirts (including the Cow Wars shirt
whose ugliness I've lamented previously
) and regulated them to the rag bin. Then so inspired, I set about tidying and purging my admittedly large t-shirt collection. It took several hours -- the entire length of time I'd set aside for my blogging hobby.
Mr Wrath was thrilled when he returned home, a bit sad that my Spock shirt was still present, but thrilled to see some of my more ugly shirts going out the door. He was less thrilled when I then placed an Old Navy order for a few new shirts. Including one black top. I think Nicole would approve.
In conclusion, here are
7 Things About Myself, the Fashion Edition
:
1. I own 12 pairs of pants: 4 yoga pants, 1 pair of cord trousers, 3 jeans, 1 pair of dressy slacks, a pair of khakis, snow pants and a truly awful pair of polar fleece pants,
2. All my outerwear is black: one down vest, one down jacket, one parka, one wind breaker. Nicole would approve,
3. In lieu of an apron, I wear medical scrubs when cooking,
4. I have a problem getting rid of socks -- I keep them long after they have holes in their soles,
5. I don't own many shoes, but I'm pretty much obsessed with purses, handbags, backpacks, etc. I own dozens and dozens,
6. My only concessions to sartorial sentimentality are a suit jacket that belonged to my grandfather and a lightweight, butter yellow sweater that I wore to my wedding, and
7. I wear my bathrobe around the house most of the day.
Thanks, Nicole. You are very stylish, darling!